EXPLORE THE WILDFJORDS AND THE GLACIER WITH RIB
Adresse: Løkkeveien 19, 9510 Alta
Vis kart


Adresse: Løkkeveien 19, 9510 Alta

NORD EKSPEDISJON: Do you want to join us for a trip to explore the Wildfjords of Finnmark and Troms and also have a glimpse of the majestic Øksfjord glacier?
We leave Alta and head out of the Altafjord where we passes several historic landmarks en route. Our local guide tells you about the history of Alta from the earliest settlements, Altas favorable position under the Northern Lights belt and the local history up until today.

When we arrive our destination in Jøkelfjord we will have a boat trip out to the glacier to have great picture close by the majestic icefall who reaches 800 meter above sea-level. The glacier is very active and can calve, meaning that ice breaks off the front and falls on the uper ice before it falls in the fjord, leaving the sound of thunder behind.

After we have been on the boat trip we will go back to the harbor where we will have a lunch and warme drinks. When we have enjoyed the great arctic nature and scenery we will head back home to Alta.

Included in the price:
• Professional local guide
• Local history
• Warm lunch and drinks
• Boat trip to the glacier - 35 min and necessary safety Equipment

Pickup outside The Northern Lights Cathedral main entrance. Other places on request.

For more information check out our homepage: www.nordekspedisjon.no
Vis mer
Hotell
Avstand: 286 meter
Hotellet er perfekt for deg som vil oppleve den spektakulære norske naturen på nært hold. Med møte- og konferansekapasitet for 650 deltakere og tilgang til svømmebasseng og badstu kan du kombinere forretning og fritid.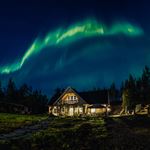 Motell og Pensjonat
Avstand: 9,2 km
Har du lyst til å overnatte et sted uten om det vanlige? Her har du muligheten. Vi bor i skogkanten bare 500 meter fra Altaelva og 10 km fra Alta sentrum. Her er fine turmuligheter rett ut i fra døra både til fots, på sykkel eller på ski.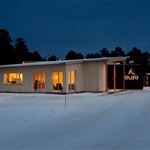 Rom og Leilighet
Avstand: 3,8 km
Vår nye og moderne leilighet er et tilbud til de som ikke ønsker å bo i bysentrum, men som foretrekker stille og rolige dager i furuskogen på landet. Her kan oppholdet nytes på lav puls – der livet og tiden holder samme fart. Frokost er inkludert.