9 days - Finnmark Plateau West – East Skiing Expedition
Vis kart
First timer or experienced skier, this cross-country skiing expedition trip presents an unforgettable experience for any adventure-minded nature lover. On this expedition trip we ski with dogs and pulks (sleds) from outside the town Alta, southeast, across the Finnmark Plateau to Karasjok in the heartland of the Norwegian Sami culture.
We sleep in mountain cabins and tents and most of the trip will be of trails. The highlights of this trip are the silence, a true wilderness experience and chances of seeing the Northern Lights. From late March to early May is probably the best time to see the Finnmark Plateau. The dark polar night is over and the light returns with higher temperatures and longer days. The skiing conditions are normally excellent, making it easy to get to almost anywhere you want to go. The weather is often good and the ice fishing gets better every day.

We leave the hustle and bustle of the civilization behind and we focus on making this a stress free outdoor experience. Every day presents new sceneries as we ski across wide open plateaus over hills and around mountains. We take the time to enjoying the environment and to make our tent camps as comfortable as possible. On our way we will also try ice fishing. Your very experienced guide will make sure safety is taken care of at all times.

We will be cross-country skiing the whole way and we transport everything we need in pulks and backpacks. Dogs will help us pull some of the equipment. These happy, social and hardworking Alaska Huskies also gives the trip an added social dimension. Your guide will show you how to handle the dogs in a best possible way. Our daily skiing distance is between 4 and 22 kilometers. Total distance is approx. 80 km.

The terrain is open, flat and easy to ski. The weather is normally good with cold nights and "mild" sunny days. The arctic weather however, can sometimes present some challenges. But do not worry! Your guides are highly professional and have years of experience from this environment, he/she will make sure you are well taken care of in any situation. On this trip we focus on comfort, good food and, as with all Turgleder trips, safety.

You do not have to be an experienced cross-country skier to do this trip. Several first time skiers have already done it. However if you wish to learn the basics of skiing or improve your cross-country skiing skills before you go, we can offer you a skiing instruction program before the trip. A reasonable level of fitness is necessary and some outdoor experience is helpful.


The price includes:
Local transportation, all meals from dinner on day 1 to breakfast on day 9, some equipment (specified in equipment list), lodging in Alta, Jotka, Ravastua and Karasjok.

The price does not include:
Travel to Alta and from Karasjok, Personal equipment (please check the equipment list), Travel insurance, Alcoholic beverages

Lodging:
You must be prepared to share rooms in Alta, Jotka mountain cabin and Ravnastua mountain cabin. In Karasjok you will be lodged at the truly unique Engholm Husky Lodge in double rooms in design cabins with one or two rooms. In Karasjok single rooms are available for an additional cost.
The nights in tents, teams of 2 to 3 persons will share one tent.

Duration:
9 days
Vis mer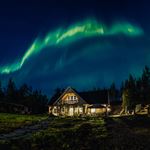 Motell og Pensjonat
Avstand: 9,3 km
Har du lyst til å overnatte et sted uten om det vanlige? Her har du muligheten. Vi bor i skogkanten bare 500 meter fra Altaelva og 10 km fra Alta sentrum. Her er fine turmuligheter rett ut i fra døra både til fots, på sykkel eller på ski.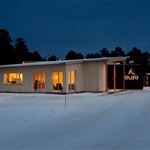 Rom og Leilighet
Avstand: 3,9 km
Vår nye og moderne leilighet er et tilbud til de som ikke ønsker å bo i bysentrum, men som foretrekker stille og rolige dager i furuskogen på landet. Her kan oppholdet nytes på lav puls – der livet og tiden holder samme fart. Frokost er inkludert.
Hotell
Avstand: 545 meter
Hotellet er perfekt for deg som vil oppleve den spektakulære norske naturen på nært hold. Med møte- og konferansekapasitet for 650 deltakere og tilgang til svømmebasseng og badstu kan du kombinere forretning og fritid.