Trasti & Trine 5 days dog sledding tour
Address: Gargiaveien 29, 9518 Alta
Date: Monday 8 apr 2019
Show map
Address: Gargiaveien 29, 9518 Alta

Drive your own dog team over the Finnmarksvidda Mountain Plateau
5 days/4 nights
Are you looking for a new challenge? Do you feel this is something you want to experience or perhaps you have experienced dog sledding before and are now ready for a longer trip.
Some people will find this trip more like a short expedition. April is a month with lots of sun and stable weather. The days become increasingly longer and it never gets dark
We stay overnight in mountain lodges, where we eat dinner and breakfast. We enjoy lunches outside around an open fire.
Preparations are made so that as a participant you will participate in the care of the dogs and feeding them in the morning and evening.
The trip starts and ends at the kennel at Trasti & Trine, if snow conditions permit.
All participants drive their "own dog team" with 4 – 6 dogs in front of the sled. There is space in the sled for your bag containing your personal gear and also for some common gear.
Please refer to the tour programme and our equipment list.
Show more
Book now - choose start date and product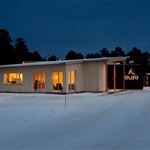 Rooms and apartments
Distance: 5.4 km
The new and modern apartment is ideal for anyone who would prefer quiet and peaceful days in the pine forest in the countryside rather than staying in the town centre. You can relax and unwind in a peaceful setting where life and the time keep the same pace.
Hotel
Distance: 3.6 km
Feel the silence in the hotel made of ice and snow. Explore the contrast between staying in the cold, while the cozy sleeping bag keeps you nice and warm during the whole night! Feel the silence and serenity surrounding you.
Hotel
Distance: 467 meters
Stengelsegården is one of three fish lodges located along the Alta River, and the only one with road access. These walls are full of history