HUNTING THE NORTHERN LIGHTS - BY CAR
Address: Løkkeveien 19, 9510 Alta
Show map
Address: Løkkeveien 19, 9510 Alta

NORD EKSPEDISJON: This tour is all about Northern Lights hunting and you'll spend the almost 4 hours finding the best location for Aurora viewing.
This  tour is all about Northern Lights hunting and you'll spend the almost 4 hours finding the best location for Aurora viewing. We start the trip in BorealisAlta, an immersive Northern Lights Experience. BorealisAlta is an Northern Light attraction packed with information to engage visitors, the exhibit includes fun, interactive areas to help bring the phenomenon to life. Visitors can sing or wave to the northern lights – something that was strictly warned against in ancient myths. This will be the perfect start to our own northern light hunt. ( Check out www.borealisalta.no )

After an informative start on the evening we will head out in our comfortable Highline Mulitvan. We can't tell you beforehand where this tour takes you other than that we will follow the weather forecast and drive away from the city to a location where there's total darkness. If the sky is clear, you might be lucky enough to see a spectacular Northern Light blaze on the night sky.

This Northern Lights tour takes you out of Alta city centre, far from the city lights to observe this fascinating natural phenomenon. We search for the Northern Lights by heading to secluded areas only accessible by car and local knowledge. Groups are small and private, with 2-6 guests + guide

Included in the price:
- Professional guide
- Local history
- Enterance Fee BorealisAlta exhibition
- A comfortable and safe ride in our VW Highline 4WD Multivan
- Warm drinks and snacks

We can not guarantee northern lights on our tours. Here in the arctic it is nature and weather that determines, as it has been doing for thousands of years. Our guide will nevertheless give you a memorable and informative evening.

For more information: check out our homepage www.nordekspedisjon.no
Show more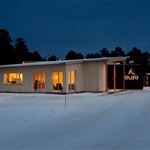 Rooms and apartments
Distance: 3.8 km
The new and modern apartment is ideal for anyone who would prefer quiet and peaceful days in the pine forest in the countryside rather than staying in the town centre. You can relax and unwind in a peaceful setting where life and the time keep the same pace.
Hotel
Distance: 286 meters
Scandic Alta is a modern full service hotel in the center of Alta.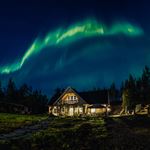 Motel and Guesthouse
Distance: 9.2 km
Do you want to stay somewhere out of the ordinary? Here you have the opportunity. In september 2014 a brand new buliding was finished at our place. Here you`ll find a nice dining room and a cozy bed & breakfast. We have two spacious family rooms for rent (total 6 - 8 persons). Own bathroom for both rooms. We serve organic and homemade breakfast.