EXPLORE THE WILDFJORDS AND THE GLACIER WITH RIB
Address: Løkkeveien 19, 9510 Alta
Show map


Address: Løkkeveien 19, 9510 Alta

NORD EKSPEDISJON: Do you want to join us for a trip to explore the Wildfjords of Finnmark and Troms and also have a glimpse of the majestic Øksfjord glacier?
We leave Alta and head out of the Altafjord where we passes several historic landmarks en route. Our local guide tells you about the history of Alta from the earliest settlements, Altas favorable position under the Northern Lights belt and the local history up until today.

When we arrive our destination in Jøkelfjord we will have a boat trip out to the glacier to have great picture close by the majestic icefall who reaches 800 meter above sea-level. The glacier is very active and can calve, meaning that ice breaks off the front and falls on the uper ice before it falls in the fjord, leaving the sound of thunder behind.

After we have been on the boat trip we will go back to the harbor where we will have a lunch and warme drinks. When we have enjoyed the great arctic nature and scenery we will head back home to Alta.

Included in the price:
• Professional local guide
• Local history
• Warm lunch and drinks
• Boat trip to the glacier - 35 min and necessary safety Equipment

Pickup outside The Northern Lights Cathedral main entrance. Other places on request.

For more information check out our homepage: www.nordekspedisjon.no
Show more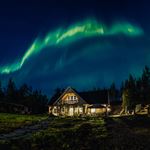 Motel and Guesthouse
Distance: 9.2 km
Do you want to stay somewhere out of the ordinary? Here you have the opportunity. In september 2014 a brand new buliding was finished at our place. Here you`ll find a nice dining room and a cozy bed & breakfast. We have two spacious family rooms for rent (total 6 - 8 persons). Own bathroom for both rooms. We serve organic and homemade breakfast.
Hotel
Distance: 286 meters
Scandic Alta is a modern full service hotel in the center of Alta.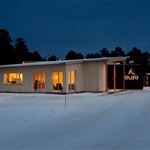 Rooms and apartments
Distance: 3.8 km
The new and modern apartment is ideal for anyone who would prefer quiet and peaceful days in the pine forest in the countryside rather than staying in the town centre. You can relax and unwind in a peaceful setting where life and the time keep the same pace.