Weekend Adventure
Address: Holmen 100, 9518 Alta
Show map
Address: Holmen 100, 9518 Alta

If you're up for the challenge of a longer-than-usual sled tour, our weekend package is the perfect way to dive a little deeper into the sport and lifestyle of dogsledding.
The weekend tour begins with a get-acquainted session on Friday afternoon, as you meet and introduce yourself to the dogs, learn about the gir, and take a 15 km dogsled ride to practice. On Friday night, you'll be our guest at the farm and enjoy dinner, comfortable accommodations and some extra touches of luxury like a sauna and outdoor jacuzzi. On Saturday and Sunday, you'll be out on the trail, gliding through the wilderness, marveling at the untamed arctic scenery as your dog team pulls you steadily along. You'll overnight on Saturday at a mountain lodge near the halfway point, and on Sunday you'll be back at our farm in time for dinner, and one more overnight stay before you leave on Monday.

Tour Summary
- 3 nights, 4 days, tour begins on Fridays
- Transport from and to Alta city center
- Thermal suits if needed for weather
- Proper instruction on handling the dogsled
- Two days of dogsled tours, each approx. 30 km
- Overnight at a mountain lodge
- Meals while at Holmen Husky Lodge and on the tour
- Overnight at Holmen Husky Lodge on the first and last night
- The weather CAN become extreme in this part of the world. Holmen Husky reserves the right to change the itinerary or cancel the tour if the weather conditions appear unsafe.

We pick you up at your place of choice at 16:00 pm (next booking step) and bring you to the center of Alta on Monday morning at 10 a.m.
Show more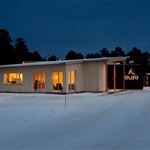 Rooms and apartments
Distance: 224 meters
The new and modern apartment is ideal for anyone who would prefer quiet and peaceful days in the pine forest in the countryside rather than staying in the town centre. You can relax and unwind in a peaceful setting where life and the time keep the same pace.
Hotel
Distance: 3.9 km
Scandic Alta is a modern full service hotel in the center of Alta.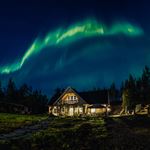 Motel and Guesthouse
Distance: 5.1 km
Do you want to stay somewhere out of the ordinary? Here you have the opportunity. In september 2014 a brand new buliding was finished at our place. Here you`ll find a nice dining room and a cozy bed & breakfast. We have two spacious family rooms for rent (total 6 - 8 persons). Own bathroom for both rooms. We serve organic and homemade breakfast.