Midnight sun summit / Trasti og Trine
Address: Gargiaveien 29 , 9518 Alta
Show map
Address: Gargiaveien 29 , 9518 Alta

Pæskanasen is a beautiful viewpoint over the Alta Valley, Eiby Vally and Alta city. Would you like to join us and hike up? We bring whit us some of our well-trained Alaskan huskies. They carry saddled with our equipment. We make campfire on our way and enjoy coffee and homemade cakes.
Midnight Sun summit ascent with well trained Alaskan husky

Peskanasen is a small summit near Northern Lights Husky. Those who make it to the top are rewarded with a fantastic view of the Alta Fjord, downtown Alta and two river valleys. In the Midnight Sun, it is a truly wonderful sight.

The trip starts from the kennel at Northern Lights Husky. You will meet around 40 well trained Alaskan huskies and some curious puppies. We greet the dogs before we select the ones to join us tonight. The dogs are fitted with harnesses and pack saddles.
The hike starts in flat terrain, but the ascent starts after around 2 km. It is steep at times, but we take short breaks and we have many stories about Alta and the dogs to share with you en route. The dogs can also help to pull you up a bit. Before we reach the summit, we prepare a fire and enjoy coffee and homemade cakes.
Duration: approx. 3 ½ hours
Groups of more than four guests may contact us to arrange a tour at a different time and/or different day.
Show more
Hotel
Distance: 424 meters
Stengelsegården is one of three fish lodges located along the Alta River, and the only one with road access. These walls are full of history
Hotel
Distance: 3.6 km
Feel the silence in the hotel made of ice and snow. Explore the contrast between staying in the cold, while the cozy sleeping bag keeps you nice and warm during the whole night! Feel the silence and serenity surrounding you.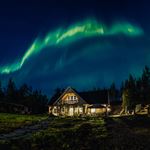 Motel and Guesthouse
Distance: 42 meters
Do you want to stay somewhere out of the ordinary? Here you have the opportunity. In september 2014 a brand new buliding was finished at our place. Here you`ll find a nice dining room and a cozy bed & breakfast. We have two spacious family rooms for rent (total 6 - 8 persons). Own bathroom for both rooms. We serve organic and homemade breakfast.