The ultimate snowmobile experience
Address: Myggveien 3, 9514 Alta
Date: Saturday 22 feb 2020 - Thursday 30 Apr 2020
Show map
Address: Myggveien 3, 9514 Alta

Whether you are an expert rider or this is your first time on a snowmobile, we will take good care of you and show you some incredible sights.
The tour starts in Alta City, where you dress as needed in a thermal suit and get the proper-sized helmet. Then we drive out to our starting point about a 15-minute drive away, where the snowmobiles are waiting at the trailhead for us. Safety instructions are given, and then you're off and into the wilderness!

Your guides will show you the way and adjust the challenge of the tour to match the experience level of the group. But no matter what, you will find plenty to marvel at, and good photo opportunities at the occasional stops. At the midpoint, you will take a break inside a lavvo, a Sami-style tent, for coffee and conversation. Then it's back to the trail and back to Alta.

A valid driver's license is required in order to drive a snowmobile. If 2 people share a snowmobile, they can change drivers now and then as long as both are legal to drive. Tours can be cancelled in the event of extreme weather or unsafe conditions.
Duration: 3 hours
Show more
Book now - choose start date and product
Cabin
Distance: 5.1 km
Turn your accommodation into an adventure! In our stylish Aurora Dome, you are so close to nature that you hear the squirrels and small birds outside and even see them through the big window.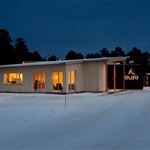 Rooms and apartments
Distance: 5.1 km
The new and modern apartment is ideal for anyone who would prefer quiet and peaceful days in the pine forest in the countryside rather than staying in the town centre. You can relax and unwind in a peaceful setting where life and the time keep the same pace.
Hotel
Distance: 3.5 km
Scandic Alta is a modern full service hotel in the center of Alta.