Sleigh Ride in the Arctic Countryside
Address: Killiveien 93, 9518 Alta
Date: Sunday 1 dec 2019 - Sunday 12 Apr 2020
Show map
Address: Killiveien 93, 9518 Alta

Come out to a traditional Norwegian farmstead and discover the arctic countryside at a slower pace. Flatmoen Farm is the perfect spot to learn more about farm life in Northern Norway, and to connect to nature in a horse-drawn sleigh.
We will collect you from downtown Alta and take bring you to the farm. From there, you will climb on board a sleigh and bundle up with blankets against the crisp, cold air. The sleigh is pulled by a Norwegian Fjord Horse, a breed that is sturdy and patient and has been in use in Norway for centuries. Your ride will take you through the forest and along the Alta River, floating on the sound of the cheerful sleigh bells through spectacular scenery all around. Near the end of the ride, you will arrive at a wilderness shelter and take a break. You will sit around a fire, protected from the weather by the shelter's half-wall, and enjoy something hot to drink and a special trail snack, along with conversation and local stories. At the end, it's back to the farm and then to Alta.

Pickup and return transfer is included in the tour. You decide place of pickup in the next booking step. Time of pickup is when your tour starts.
Show more
Book now - choose start date and product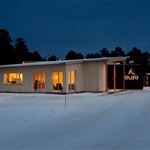 Rooms and apartments
Distance: 1.7 km
The new and modern apartment is ideal for anyone who would prefer quiet and peaceful days in the pine forest in the countryside rather than staying in the town centre. You can relax and unwind in a peaceful setting where life and the time keep the same pace.
Hotel
Distance: 3.9 km
Stengelsegården is one of three fish lodges located along the Alta River, and the only one with road access. These walls are full of history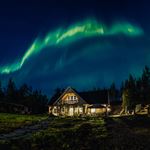 Motel and Guesthouse
Distance: 3.9 km
Do you want to stay somewhere out of the ordinary? Here you have the opportunity. In september 2014 a brand new buliding was finished at our place. Here you`ll find a nice dining room and a cozy bed & breakfast. We have two spacious family rooms for rent (total 6 - 8 persons). Own bathroom for both rooms. We serve organic and homemade breakfast.