Trasti & Trine 3 days dog-sledding on the Finnmarksvidda Mountain Plateau
Address: Gargiaveien 29 , 9518 Alta
Date: Tuesday 19 jan 2021 - Friday 30 Apr 2021
Show map

Address: Gargiaveien 29 , 9518 Alta

3-DAY NORTHERN LIGHTS DOG SLEDDING TRIP ON FINNMARKSVIDDA MOUNTAIN PLATEAU
Dates for 2019:
17-19 of January
22-24 of January
26-28 of January
26-28 of March
Day 1:
We wish to set off early so we can make use of the available daylight. We pack the sleds and you will be given a list of the names of the dogs that will be in "your" dog team. We will provide a brief and precise instruction on how to drive a sled then everything is ready.

We set off directly from the kennel at Trasti & Trine and for the first 4 km we drive along the Alta River. The first 3 km are steep and we need to help the dogs a little. That's the hard part out of the way. We continue to climb upwards but the hills become gentler and we drive over some lakes. It's then time for lunch. We light a fire, relax and enjoy a hot meal.
We are now up on the Finnmarksvidda Mountain Plateau. On the final 10 km before we reach the mountain lodge we can simply enjoy the nature and the arctic light. On arrival at Jotka, we arrange stabling of the dogs, prepare their food and attend to them before they rest for the night. We then prepare our own dinner and wait for the Northern Lights! Will they appear tonight?

Day 2:
We feed and take care of the dogs. While they are digesting the food, we eat breakfast and plan the day's leg. We have several options and select the route based on the prevailing snow and weather conditions. You play a part in deciding where and how long we drive. We also eat today's lunch outside around an open fire. When we return to the mountain lodge, we feed and take care of the dogs. Then dinner is served for the two-legged participants before we wait for the Northern Lights to appear.

Day 3:
We feed the dogs, eat breakfast and pack up our gear before we set off back down to Trasti & Trine. Today we get to try the breaks as we head down all the hills we climbed up on day one. We stop for lunch en route. On arrival back at the kennel, we remove the harnesses and return the dogs to their respective kennels. We enjoy a light meal and summarize the trip before we wish you a safe trip home.


Please refer to the tour programme, equipment list and our guarantee. The tour price includes: hire of warm thermal suit, winter boots and mittens, accommodation, meals, sled, dogs and guide, as outlined in the tour programme.

The tour price excludes: flights, pre and post tour accommodation and meals, and any alcoholic beverages. Specific dietary requirements, e.g. vegetarian meals, is not available on our wilderness trips, please contact us.

We can arrange pre and post tour accommodation in unique conditions at Trasti & Trine. Please contact us for further information and a quote.

Please note: One person per sled.
Availability: Please contact us.
Group size: minimum 3, maximum 8 guests
Duration: 3 days / 2 nights
Show more
Book now - choose start date and product
Hotel
Distance: 3.6 km
Feel the silence in the hotel made of ice and snow. Explore the contrast between staying in the cold, while the cozy sleeping bag keeps you nice and warm during the whole night! Feel the silence and serenity surrounding you.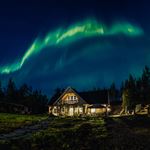 Motel and Guesthouse
Distance: 5 meters
Do you want to stay somewhere out of the ordinary? Here you have the opportunity. In september 2014 a brand new buliding was finished at our place. Here you`ll find a nice dining room and a cozy bed & breakfast. We have two spacious family rooms for rent (total 6 - 8 persons). Own bathroom for both rooms. We serve organic and homemade breakfast.
Hotel
Distance: 466 meters
Stengelsegården is one of three fish lodges located along the Alta River, and the only one with road access. These walls are full of history