Trasti & Trine Stengelsen Lodge
Hotel | Stengelsegården is one of three fish lodges located along the Alta River, and the only one with road access. These walls are full of history
The farm has 10 rooms in two buildings with a total of 19 beds. All rooms have a private shower and toilet. The lodge was newly refurbished in 2012.
There is a living room with fireplace and dining room that seats 20 people.
All of culinary experiences are made by Johnny Trasti. The food that is served is locally produced or organic.

Stengelsengården has an elegant and peaceful atmosphere, and may be the perfect base for your Finnmark adventure. Here you can relax by the fire after a long day out in the snow, or what about a timeout in the sauna? Maybe you just want to take a quiet walk along the river. The view from the living room and most rooms are beyond the Alta River. Here you won`t find any streetlights disturbing the northern light or the moonlight.

This lodge is located about 500 meters from the kennel
and the rest of Trasti & Trine.
Compare "Trasti & Trine Stengelsen Lodge" with similar alternatives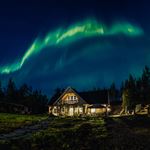 Do you want to stay somewhere out of the ordinary? Here you have the opportunity. In september 2014 a brand new buliding was finished at our place. Here you`ll find a nice dining room and a cozy bed & breakfast. We have two spacious family rooms for rent (total 6 - 8 persons). Own bathroom for both rooms. We serve organic and homemade breakfast.
Feel the silence in the hotel made of ice and snow. Explore the contrast between staying in the cold, while the cozy sleeping bag keeps you nice and warm during the whole night! Feel the silence and serenity surrounding you.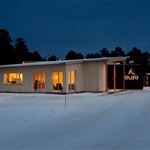 The new and modern apartment is ideal for anyone who would prefer quiet and peaceful days in the pine forest in the countryside rather than staying in the town centre. You can relax and unwind in a peaceful setting where life and the time keep the same pace.