Motel und Pension | Do you want to stay somewhere out of the ordinary? Here you have the opportunity. In september 2014 a brand new buliding was finished at our place. Here you`ll find a nice dining room and a cozy bed & breakfast. We have two spacious family rooms for rent (total 6 - 8 persons). Own bathroom for both rooms. We serve organic and homemade breakfast.
We live in the forest, 10 km from Alta City and 500 m from the Alta River. There are good trails straight from the cottage door, for hiking, biking and skiing. We have a dog yard with 40 Alaska huskies, not far from the cottage. You are warmly welcomed into the kennel and in the summer we have puppies that will be very happy for some extra attention.

This is the perfect accommodation for those who want something else than an ordinary hotel bed. Here you will find an inventive atmosphere, but also peace and quiet in the evenings. We have a lot of rooms for children to play outside.
Welcome to our home.
"Trasti & Trine´s lodge" mit ähnlichen Alternativen vergleichen
Stengelsegården is one of three fish lodges located along the Alta River, and the only one with road access. These walls are full of history
Feel the silence in the hotel made of ice and snow. Explore the contrast between staying in the cold, while the cozy sleeping bag keeps you nice and warm during the whole night! Feel the silence and serenity surrounding you.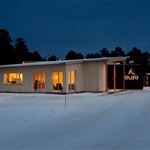 The new and modern apartment is ideal for anyone who would prefer quiet and peaceful days in the pine forest in the countryside rather than staying in the town centre. You can relax and unwind in a peaceful setting where life and the time keep the same pace.