The best of Alta - A dog day adventure
Adresse: Holmen 100, 9518 Alta
Karte anzeigen
Adresse: Holmen 100, 9518 Alta

Going on this full day adventure with Holmen Husky lodge you will experience dog sledding and Sorrisniva Igloo Hotel.
THE TOUR starts from Alta city centre at 10:00 am and take you straight out into the Arctic wilderness. Our lodge is situated just outside the city centre, the starting point of the trip. Here we will supply you with proper winter clothing, to match the winter weather and you will meet your guide and the dog team. Your ride will take you into the forest outside of Alta and along the bank of the frozen Alta River known for its excellent salmon fishing in the summer. The adventure gives you the time to see the nature and wildlife surroundings. Stories from the guide combined with the feeling of running your own dog team, gives you the real idea about the culture among mushers and their dogs. If you're lucky, you might even catch sight of a moose or other wildlife along the way!

When you return to the farm, you will head indoors to our Lavvo (a traditional Sami tent) where you'll warm up around a fire with a hot drink. One of our crew will answer questions and talk about racing dogs and life on the husky farm. And of course, there will be some extra time to visit and take pictures of your new four-legged friends, before we hop into the car and drive towards Sorrisniva. Sorrisniva will welcome you with a warm lunch based on local ingredients. After the meal, you will have time to explore the Igloo hotel, it`s art work as well as having a refreshing ice drink in the ice bar. After lunch and the visit, you will head back to either our Holmen lodge or the city centre.

We pick you up at your place of choice at 10:00 am (next booking step) and bring you to the center of Alta after the activity at approx. 16:00 pm.
Mehr anzeigen
Über diese Aktivität
Telefonnummer Reservierung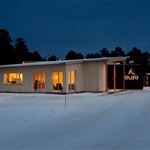 Zimmer & Wohnungen
Entfernung: 224 Meter
The new and modern apartment is ideal for anyone who would prefer quiet and peaceful days in the pine forest in the countryside rather than staying in the town centre. You can relax and unwind in a peaceful setting where life and the time keep the same pace.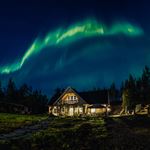 Motel und Pension
Entfernung: 5,1 km
Do you want to stay somewhere out of the ordinary? Here you have the opportunity. In september 2014 a brand new buliding was finished at our place. Here you`ll find a nice dining room and a cozy bed & breakfast. We have two spacious family rooms for rent (total 6 - 8 persons). Own bathroom for both rooms. We serve organic and homemade breakfast.
Hotels
Entfernung: 3,9 km
Scandic Alta is a modern full service hotel in the center of Alta.