Imagine a walk out in nature, enveloped by the silence of the arctic wilderness, free from the light of civilization, where your only company are the animals that call this wild land their home. It's waiting for you just outside the city of Alta.
We will collect you from your downtown hotel and bring you through the city, along the edge of Alta Fjord, and up to the edge of the nearby mountain plateau where the SarvesAlta Alpine Center is built. From there, we will hike into the mountains and let the stillness embrace us. Maybe we will see some animals nearby, and if the sky is clear above there is a good chance we will see the mystical Northern Lights come out to dance over our heads. The walk ends back at SarvesAlta at Bjørnehiet, a small cafe overlooking the city of Alta in the distance, where you can sit inside – or outside by the fire – and enjoy hot drinks and something tasty while we enjoy the view of the fjord, the mountains and the city. After refreshments, we will sled down to the main lodge and finish the tour with a delicious fish soup.
Mehr anzeigen
Hotels
Entfernung: 538 Meter
Scandic Alta is a modern full service hotel in the center of Alta.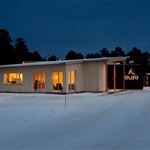 Zimmer & Wohnungen
Entfernung: 4,1 km
The new and modern apartment is ideal for anyone who would prefer quiet and peaceful days in the pine forest in the countryside rather than staying in the town centre. You can relax and unwind in a peaceful setting where life and the time keep the same pace.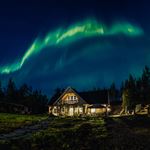 Motel und Pension
Entfernung: 9,5 km
Do you want to stay somewhere out of the ordinary? Here you have the opportunity. In september 2014 a brand new buliding was finished at our place. Here you`ll find a nice dining room and a cozy bed & breakfast. We have two spacious family rooms for rent (total 6 - 8 persons). Own bathroom for both rooms. We serve organic and homemade breakfast.