Adresse: Nordelvdalen 170, 9517 Alta

At SarvesAlta we can offer a day of fun, excitement and challenges in activity trails in the Arctic Woods. We have six different trails with games, activities and ziplines built safely in the Nordic pine trees in the Sarves forest. We can offer an exciting day for everyone, you need no forehand experiences to participate – but if you are experienced, we can offer challenging trails for you too.
The park
At the park we have six trails with games, activities and ziplines, as well as one 207 meter long speedy zipline. The trails contains more than 55 different games and activities where you use balance, climbing and creativity to get you from one platform to another. The six different trails are marked with difficulty to assure everyone have fun at their own pace.

Opening hours:
24 of June - 14 of August every day 16:00 - 18:00
From 15th of August Saturday and Sunday 12:00 - 18:00

Safety
While doing our trails you are at all time connected to a continuous lifeline to assure no dangerous accidents. At the park we have some safety rules you have to accept and sign to participate in the games and activities. These can be found on our webpage www.sarvesalta.no. To do the outdoor activity-trails you have to be at least 120 cm tall for the pink and purple trail, and at least 140 for the green, blue and red ones, as well as the speedy zipline. Maximum weight for participating in activities is 120 kilos with equipment.

Food and beverage
SarvesAlta have a cozy cafe where you can buy delicious homemade food and drinks for a nice price. To mention something, we offer reindeer in pita, baked potatoes, paste creem, waffels, brownies, milk Shake and smoothie.

Nature walk
You do not feel for climbing today? What about a walk in the nature. We have both forest roads made by humans an paths made by the animals during years. Maybe you will meet some of the animals who lives her on your nature walk.
Mehr anzeigen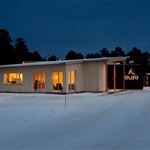 Zimmer & Wohnungen
Entfernung: 18,9 km
The new and modern apartment is ideal for anyone who would prefer quiet and peaceful days in the pine forest in the countryside rather than staying in the town centre. You can relax and unwind in a peaceful setting where life and the time keep the same pace.
Hotels
Entfernung: 16 km
Scandic Alta is a modern full service hotel in the center of Alta.
Hotels
Entfernung: 23,8 km
Stengelsegården is one of three fish lodges located along the Alta River, and the only one with road access. These walls are full of history