You will find the full itinerary and equipment list below.
Itinerary:
Day 1 Arrival, dinner and briefing about the expedition program. Preparing for the expedition
Day 2 Continue preparations. Last minute purchases. Driving to our starting point.
Day 3-16 The Finnmark Plateau expedition
Day 17 Breakfast and journey home

Day 1
Arrival day: You arrive at Alta airport where your guide will meet you and take you to a local guesthouse/cabin in the town of Alta. After dinner you will be briefed on the route of the expedition and we will go through your equipment to see and evaluate whether it will be sufficient for the expedition. We will talk through subjects like first aid, safety and how to avoid frost injuries.

Day 2
Day two we will spent preparing for the expedition and taking the first pole strokes on our way to Karasjok. We will put together teams of two or three that will work and stay together in the tents throughout the expedition. We will do our final purchases in the town, test and pack our equipment before we depart for our starting point. On this first day of the expedition we will be skiing only a few kilometres before we set up our camp for the night. This is to give you the best possible start and to give you the opportunity to adapt to the situation and to make adjustments to your equipment. The exact starting point will be desidet based on group size and -composition, weather forecast, snow conditions and other factors that will influence on the trip.

Days 3-15
We will be skiing an average of 15 to 20 kilometers per day. Some days this will mean skiing into the dark hours of the day. Our goal is Karasjok and Engholm Husky Lodge where hot showers and a nice meal is waiting. The lanscape will vary from mountainous terrain with steap slopes and narrow valies by the coast to the typically flat terrain with roling hils and scattered patches of wood on the inland mountain plateau.

Day 16
Day sixteen is an extra day. We need to have this day as a back-up in the event that we get weather-bound while we are on the plateau or anything unforeseen should happen. If we reach our goal on day 14 or 15 these extra days can be spent exploring Karasjok and Engholm Husky Lodge.

Karasjok is a small town situated in the heartland of the Sami culture. Here you can visit the Sami parliament, the Sami museum and the local knife smith or silver smith. You can also by other traditional Sami handcraft.

At Engholm Husky lodge there are always many things happening. You can take part in the daily life at the lodge, you can choose to read a book from "the mushers library" or book a daytrip with dogsledding or a visit to a reindeer herder.

Day 17
Day seventeen is your departure day. However we would like to encourage you to stay a few extra days to explore Karasjok, the neighbouring town Kautokeino or Engholm Husky Lodge.


Equipment list:

Wind proof jacket (and preferably also waterproof e.g. GoreTex, BreTex or similar membrane fabric) 1
Windproof pants (Like the jacket) 1
Thick woollen sweater or fleece jacke 1* (NOK 50)
Sweater 1
T-shirts, thin woollen shirts or other technical underwear 2
Warm underwear (longjons and top with full length arms). Preferably wool or woollen terry 2 sets (minimum)
Warm and wind proof hat that also protects your ears in the wind 1* (NOK 50)
Warm and wind proof mittens. Preferably wool or down mittens with wind proof over mittens. 1 pair* (NOK 50)
Thin gloves (to protect fingers from direct contact with cold metal) 1 pair
Thick woollen socks 3 pairs
Scarf and/or balaclava 1
Headlamp 1*
Gaiters/leggings 1 pair
Ski boots 1 pair
Skis, skins and ski poles 1 sett* (NOK 2000)
Back pack (40 liter +/- 20 liters) 1
Sleeping mat / roll mat 1*
Sleeping bag (minimum comfort temperature >/=-20Celsius) 1* (NOK 200)
Liner for sleepping bag 1*
Ski-googles 1*
Knife 1*
Thermos flask 1*
Compass 1*
Towel 1
Toilet articles and other private equipment

- Items marked with * can be provided by Turgleder on request for free or at an additional cost. Any additional cost is given in parenthesis. Information about equipment you need must be conveyed to Turgleder minimum 1 week before arrival.

- Please note that this is the minimum required clothing and equipment for this holiday. You are of course welcome to bring other clothes and equipment in addition to this.

- Please also note that this is the minimum required clothing and equipment for this holiday. - - Guests are of course welcome to bring other clothes and equipment in addition to this.

- We also strongly recommend that you bring a down jacket (and pans) to put on in camp and when we are not moving, however this is only for comfort and is not vital for the expedition.

- If you choose to bring your own sleeping bag, this needs to be a warm winter sleeping bag with minimum comfort temperature >/=-20Celsius.

- You are of course welcome to bring your own skis on this trip. The skis must, however, be mountain/expedition skis (back country skis) or touring skis. Racing skis or other narrow and/or short skis will not do the job. The skis are vital on this trip and anything other than mountain/expedition skis or touring skis are not considered safe to use on this trip.

- Turgleder can provide a modern expedition ski package;
The package contains modern light weight expedition skis (Åsnes Amundsen) and poles (Åsnes Horgi/Vidda), skins and boots (Alfa Polar A/P/S). The price for hiring the ski package is NOK 2000 for the whole trip.

Turgleder also provides:
- Warm winter boots (to use in the camp area when we are not skiing)
- Tents
- Stoves, cutlery and cooking equipment
- Pulks (sledges for equipment transport)
- Other equipment necessary for this trip

Equipment that you do not need on the expedition can be transported from Alta to Karasjok.
Mehr anzeigen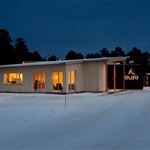 Zimmer & Wohnungen
Entfernung: 4,7 km
The new and modern apartment is ideal for anyone who would prefer quiet and peaceful days in the pine forest in the countryside rather than staying in the town centre. You can relax and unwind in a peaceful setting where life and the time keep the same pace.
Hotels
Entfernung: 1,1 km
Scandic Alta is a modern full service hotel in the center of Alta.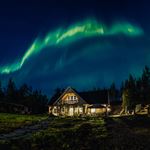 Motel und Pension
Entfernung: 10,1 km
Do you want to stay somewhere out of the ordinary? Here you have the opportunity. In september 2014 a brand new buliding was finished at our place. Here you`ll find a nice dining room and a cozy bed & breakfast. We have two spacious family rooms for rent (total 6 - 8 persons). Own bathroom for both rooms. We serve organic and homemade breakfast.